We utilize Bee Line equipment in our shop; they invented laser alignment technology in order to achieve the most accurate wheel alignment measurements possible. With laser measurements to 1/1000th of an inch, our front end alignment machines will produce the results you demand.
Correct truck & trailer axle alignment can save you money with increased fuel mileage and longer tire life. Bee Line is also a leading pioneer in axle correction equipment. By making cold bends, our tooling and equipment enables us to make precision corrections on any size axle on your vehicle.
Our truck and trailer frame straightening equipment can provide complete chassis and suspension correction for all types of heave duty power units and trailers. Considered by many as the most accurate, our fully equipped frame shop will provide you with the most efficient and cost effective vehicle repairs available. We can diagnose and repair frame problems like sags, side-sways, re-arching, twists or diamonds, and we do complete dump body repairs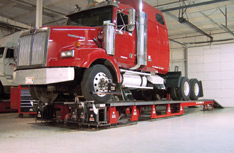 Our Bee Line spin balancers also make the ultimate on vehicle wheel balancing available to our customers. We specialize in frame straightening and modification, aluminum, TIG and MIG welding, axle repairs, brake and air suspension repair and complete dump body repair. In addition, we offer full leaf spring suspension service and we do Federal inspections.